Hotel Info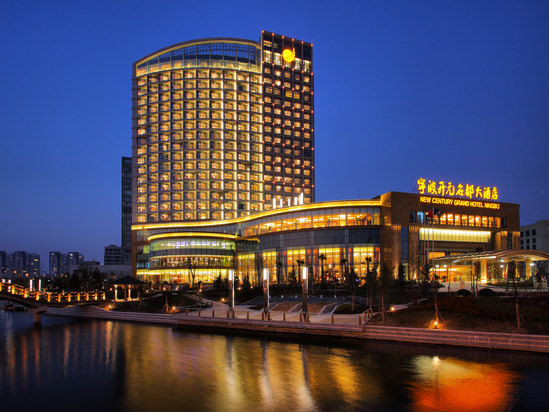 New Century Grand Hotel Ningbo
is located in the prime area of Ningbo business investment-Yinzhou New City District, adjacent to the district government function belt, sitting on the vibrant vitality of Yinzhou Park and strategically located.
The hotel was jointly created by internationally renowned design companies such as Wuhe International Australia, WATG in the United States, BellGorim in Hong Kong, etc., with Ningbo's city flower 'camellia' as the main design element, which highlights Ningbo characteristics in a luxurious international business atmosphere. The design masters of Bellgaurin in Hong Kong cleverly borrowed the natural landscape around the hotel to integrate it with the artificial water feature in the lobby, bringing the hotel a wide-view garden landscape.
The hotel has a variety of guest rooms. Ms. Mary, a well-known female designer from WATG in the United States, devotes herself to creating ideas for guests. The ingenious curved design, soft lines and gorgeous colors bring guests a wealth of artistic reverie space.
7 different restaurants and lobby bars are made by famous designers. The cafeteria located in the lobby of the hotel has a modern decoration and brings you a new visual enjoyment. The open kitchen immerses guests in an interactive dining atmosphere and has close contact with world chefs. The 'Jinjue Club' luxury club located on the upper level of the hotel fully interprets fashionable and luxurious life, and creates a distinguished and private dining space for guests. Holding a glass of wine in his hand, looking out the window, the hustle and bustle in his heart suddenly opened up.